Our Services
Funeral Services
Where should the Funeral Service be held?
A Funeral Service can be held at many different locations.  The choice of where a Service will be held is a very important one.  If a person is a member of a Church congregation, then the obvious choice is for the Service to be held in that Church.  If a Church is not the preferred choice than the options are wide and varied.  Such as the Mason Park Chapel which is located directly opposite the Wangaratta Lawn Cemetery, a Crematorium Chapel, at the Graveside in the Cemetery, a local Hall, Function Centre, a garden, a private residence. Choices are only limited by imagination.
If the decision is made for the Service not to be held in a Church building, the option to have a Priest or Minister of Religion is still available at all of these settings.
Burial or Cremation?
The decision to choose burial or Cremation is a very personal one.
Everybody has their own opinion or belief as to how they would like to be laid to rest and we are able to accommodate these requests.
If burial is chosen, there are many different Cemeteries available and there are many different options as to the types of graves that are available within each Cemetery.   Your Mason Park Funeral Director can walk you through the many different options available.
If Cremation is preferred, the decision of where the Cremation is to take place will need to be made.
The two nearest Crematoriums to us are the Lake Mulwala Crematorium and the Glenmorus Gardens Crematorium in North Albury.  Again, your Mason Park Funeral Director will explain the differences and what may suit your specific requirements.
Memorialisation is very important to those people left behind.  If a person is buried, then the grave would usually be marked with a bronze plaque or granite headstone.
If Cremation is chosen, depending on what is decided as the final resting place for the Cremated remains many options are available for memorialisation whether being kept in a decorative Urn, scattered at a familiar or special place, interred in a grave, rose garden or memorial wall.
Viewing
A viewing can be a very important step in the process of working through grief.  The opportunity to spend time with your loved in a peaceful environment to acknowledge the reality of their death can be very comforting.  Viewings are very personal, people should not be excluded from viewing, but people should also not be forced to be there.  If you are unsure about whether you would benefit from this, speak to you Mason Park Funeral Director.
The care and dignity of your loved one is the most important service that we can provide.
As members of the Australian Institute of Embalming, you can rest assured our staff abide by a strict code of ethics.
A Life in Pictures Tribute
"A picture speaks a thousand words".  Many people are choosing to incorporate photographs into Funeral Services whether being frame photographs on display or through the use of a digital slideshow of photos.  If the decision is made to incorporate a slideshow of photos, the staff at Mason Park can produce a DVD to be played with precious family photos and music chosen by family members to bring to mind some of those precious memories.  This DVD is then kept as a keepsake.
Our Mason Park Chapel has state of the art Audio Visual technology to allow the playing of these tributes, but we can also organise mobile projectors and screens to use at any location. Click here to view an example.
Catering
The Catering or "Wake" is a very important part of the Funeral process.  It allows people to gather in a more informal environment after the Funeral to share stories and memories with each other and to pass on their condolences to family members.  Whether you choose for the catering to be held in the Mason Park Function Room or at any other venue, we can arrange all the details on your behalf.
Available catering menus in the Mason Park Function Room are:
Menu 1 – $7.00 per head
Freshly brewed coffee and tea, cordial, water and an assortment of sweet biscuits
Menu 2 – $9.00 per head
Freshly brewed coffee and tea, cordial, water and an assortment of cakes, slices and sweet muffins
Menu 3 – $11.00 per head
Freshly brewed coffee and tea, cordial, water, mixed sandwiches and an assortment of cakes, slices and sweet muffins
Menu 4 – $16.00 per head
Freshly brewed coffee and tea, cordial, water, homemade mini sausage rolls, pies, quiches, mixed sandwiches and an assortment of cakes, slices and sweet muffins
Soft drinks are also available.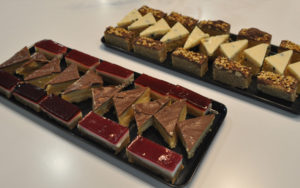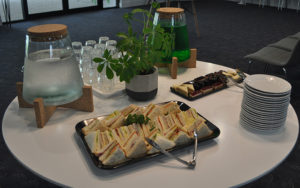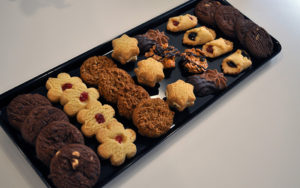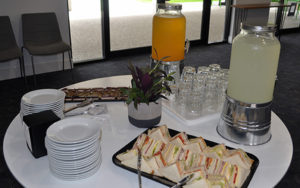 Service or Mass Booklets
Mason Park Funerals can produce and print all of your Service booklet requirements.
Whether a simple 4-page booklet or a highly detailed 16-page Mass booklet, we will work with you to design a personal booklet with treasured photos and details to be given to all attendees at the Funeral Service and to be kept as a beautiful tribute to your loved one.
Coffins and Caskets
The difference between a coffin and a casket is simply one of design.  A casket is rectangular in shape with a hinged opening top, whereas a coffin is wider at the shoulder and tapered to either end and has a removable top.  The choice of the coffin or casket is an important design and can act as a tribute to your loved one.  Many factors need to be considered at this time, design, preference, colour and budget.
Traditional Coffins, Traditional Caskets, Expressions Coffins, Environmentally, Friendly Coffins and Caskets. View a range of coffins and caskets here.
Urns
If Cremation is chosen, the choice of an Urn can be made through Mason Park Funerals.  We offer a large range of bronze, timber and cloisonné Urns to suit all tastes and budgets. Click here to view our range.
Floral Tributes
Floral tributes traditionally sit atop the coffin or casket as a tribute to your loved one.
You may decide flowers are not fitting to your loved one and choose to place other items on top of the coffin.  If you would like flowers, we suggest choosing flowers that are meaningful to your loved one.
Click here to view floral tribute examples.